Our Story...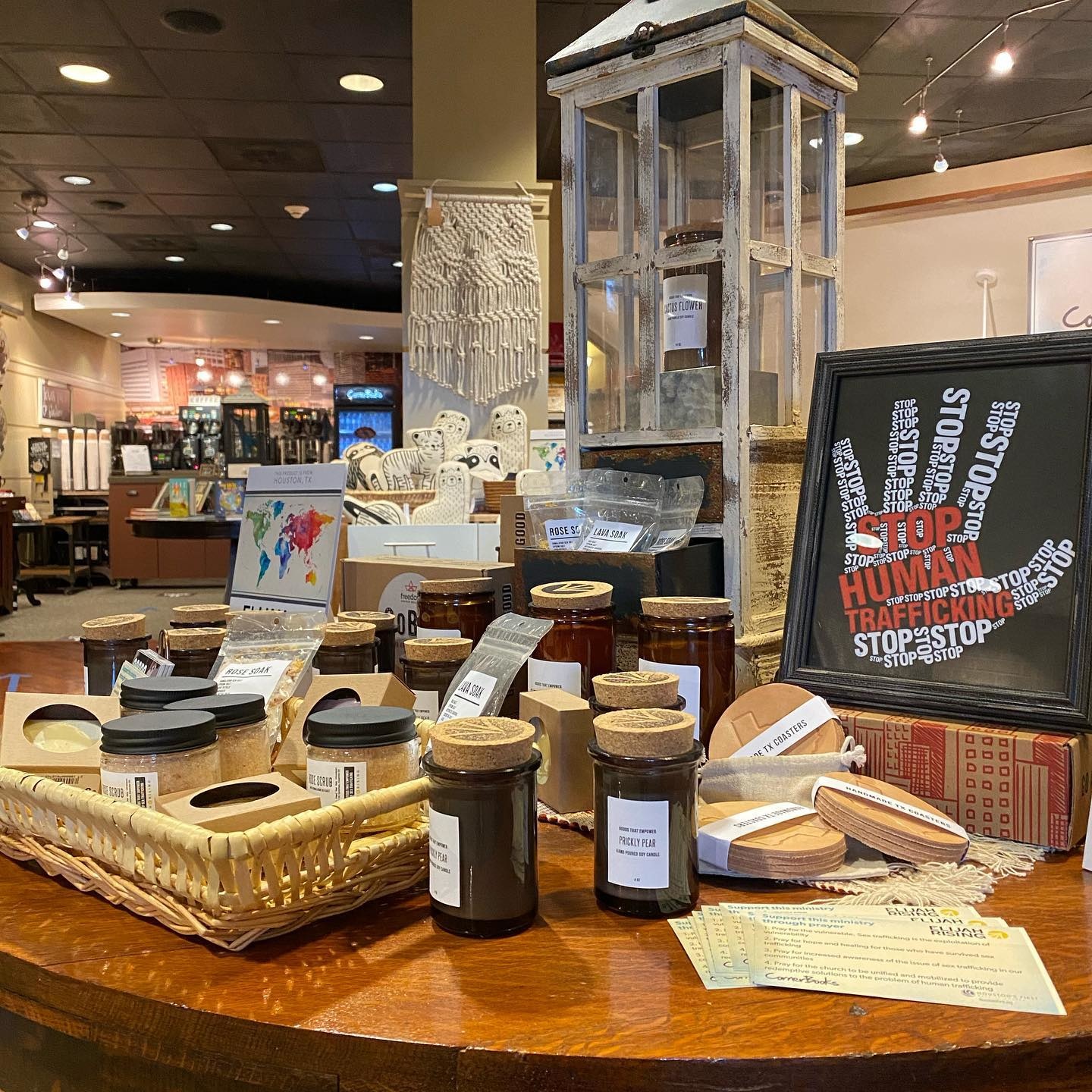 Welcome to CornerBooks - A Missional Marketplace. We exist to extend the message, ministry, and mission of Houston's First Baptist Church.
A missional marketplace is a place of gathering and connection with a collection of handcrafted goods from ministries around the world who partner with Houston's First. The vision for our missional marketplace began when former Director of CornerBooks, Mary Ellen Walcheck, and her team began praying about ways CornerBooks' ministry could extend beyond their little corner of the campus.
During a 2017 mission trip to Kenya, Mary Ellen met with our first ministry partner, Heshima. She witnessed how the ministry rescues women out of poverty by providing employment through hand-crafted products and provides opportunities for their children with special needs to get the services that they need. Through the love of Jesus Christ, Heshima provides a holistic environment that includes physical, mental, and spiritual support for these children and their mothers. The women sell their products - including jewelry, scarves, woven products, and toys - to help pay for the services their children receive at the Heshima Children's Center. Mary Ellen knew that CornerBooks would provide a place of opportunity to tell our church family and the community beyond the stories of this ministry. And so, CornerBooks - A Missional Marketplace was born. 
From this beginning with Heshima, we have expanded our working relationships to multiple ministry partners through their established connection with Houston's First.  Your purchase of these handcrafted goods (jewelry, purses, candles, rugs, textiles, and home items) help provide sustainability for the workers and carry the Gospel of Jesus around the world. We invite you to check out our missional marketplace products and purchase with a purpose!
CornerBooks Ministry Partners
Heshima – Nairobi, Kenya | Products: Jewelry, scarves, woven products/toys
 
Vision Rescue – India | Products: Jewelry, Watercolor notecards, leather products, journals
Passion4Guatemala – Guatemala | Products: Baskets
Elijah Rising – Houston | Products: Candles, Bath salts, lip balm
Mercy House Global – Kenya & Houston | Products: Jewelry, candles, rugs, home goods
J-People – East Asia | Products: Jewelry
The Vine Collective – Uganda | Products: Purses, Jewelry
Freedom Church Alliance | Products: GO BOXES
Store Hours
Houston's First Baptist Church - 7401 Katy Freeway, Houston, TX 77024
Sun — 8a–12:30p, 4–6:30p
Mon — Closed
Tue — 9a–4p
Wed — 9a–4p
Thu — 9a–4p
Fri — Closed
Sat — Closed
Click here to find out more about our physical store located in Houston's First Baptist Church.